Internet :.
The

Internet

is a global system of interconnected

computer networks

that use the standard

Internet protocol suite

(TCP/IP) to serve billions of users worldwide.
Well Coming to topic We all Are Using Internet Today in Our Pc's, Laptops ,Tablets,Smartphones And Mobile devices too.
It is a

network of networks

that consists of millions of private, public, academic, business, and government networks

Where people Share Their Files and stuff with others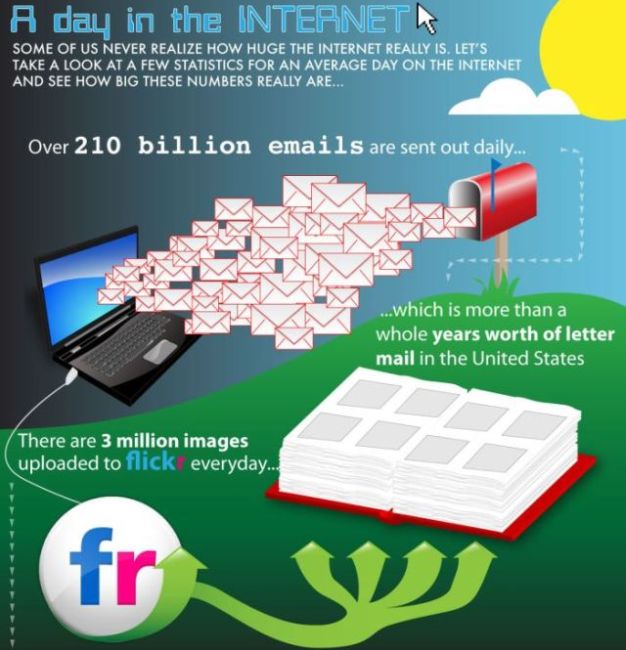 You Know What i Actually Mean is This:.
Do You Know that :.
Did you know that these things happen within 60 seconds ?
Search engine Google serves more that 694,445 queries
6,600+ pictures are uploaded on Flickr
600 videos are uploaded on YouTube videos, amounting to 25+ hours of content
695,000 status updates, 79,364 wall posts and 510,040 comments are published on Social Networking site Facebook
70 New domains are registered
168,000,000+ emails are sent
320 new accounts and 98,000 tweets are generated on Social Networking site Twitter
iPhone applications are downloaded more than13,000 times
20,000 new posts are published on Micro-blogging platform tumbler
Popular web browser FireFox is downloaded more than 1700 times
Popular blogging platform Wordpress is downloaded more than 50 times
WordPress Plugins aredownloaded more than 125 times
100 accounts are created on professional networking site LinkedIn
40 new Questions are asked on YahooAnswers.com
100+ questions are asked on Answers.com
1 new article is published on Associated Content, the world's largest source of community-created content
1 new definition is added on UrbanDictionary.com
1,200+ new ads are created on Craigslist
370,000+ minutes of voice calls done by Skype users
13,000+ hours of music streaming is done by personalized Internet radio provider Pandora
1,600+ reads are made on Scribd, the largest social reading publishing company
20 new victims of Phishing
-6 new articles on Wikipedia
-Amazon makes 83,000 dollars in sales
-100 new accounts are created on Linkedin and 320 on Twitter
-100,000 tweets every 60 seconds
-61,000 hours of Music listened via Pandora
-20 million photos viewed on Flickr and 3000 uploaded
-2 million searches on Google
-1,3 million videos viewed on Youtube and 30 hours of videos uploaded